Scott Richard / YouTube
This video was recorded back on December 4th, 2016 at Lincoln Financial Field Philadelphia, Pennsylvania. It was a game between the Philadelphia Eagles and Cincinnati Bengals and during halftime, the crowd was treated to one of the most spectacular shows the United States military has to offer, namely, the Marine Corps Silent Drill Platoon.
For those of you not familiar, this platoon has been around since 1948 and although was supposed to be a one time show, the perfection with which these men performed it made it a staple of the Marine Corps' discipline. They travel all across the United States to attract new cadets by displaying their perfect synchrony and handling of both themselves and their perfectly polished rifles.
Nobody is perfect, however.
We've seen a member of the team miss catching his rifle before and the procedure after that is for the leader to retrieve it and do the drill over again. It's a classy and respectful way to push through the mistake and give the Marine another chance to exemplify his skill. 
In the video below, however, the Marine did not catch his rifle the second time either. Since we've never seen that before we wondered what in the world would happen next. At that point, the stakes and emotions are higher and could possibly lead the more mistakes not exactly showing the crowd what was intended.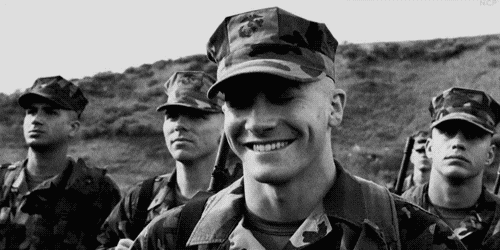 Marines always take care of their own and they handled the situation as they were trained. As a side note, we'd like to point out we support all our military wholeheartedly and are sharing this video as a testament to the fact that no matter how much these guys mess up, everyone is always on their side.
Just listen to the crowd when the Marine got his rifle back. Respect.